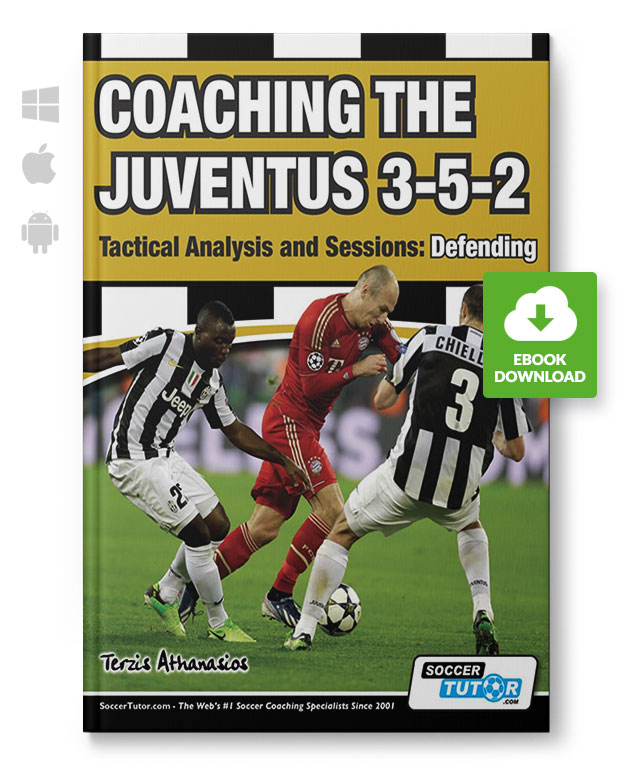 Coaching the Juventus 3-5-2 - Defending (eBook)
Auch als anderes Medium verfügbar
Produktinformationen
Tactical Analysis and Sessions: Defending
This ebook includes:
236 Pages
FULLCOLOUR Print
54 Tactical Analysis Topics
12 Sessions
40 Practices
U14-Pro Level
This long awaited book in FULL COLOUR contains a full and extensive analysis of the most successful team using the 3-5-2 formation in modern football. This tactical blueprint is explained clearly with supporting diagrams, notes and detailed descriptions.
Juventus have won 4 consecutive Serie A league titles (2012-2015) which included an incredible 49 game unbeaten run. They kept 80 clean sheets in 152 games, conceding just 91 goals (0.59 per match) with a total win percentage of 72%. During this time they also won the Coppa Italia and reached the Champions League final in 2014.
THE SUCCESS OF JUVENTUS USING THE 3-5-2
As the impressive stats tell you, Juventus are a very successful defensive team. They focus on maintaining a numerical advantage at the back, pressing to force the ball wide, tightly marking all potential receivers, keeping a compact formation and blocking through passes.
There are 54 tactical analysis topics which have been used to produce 12 sessions (40 practices) including functional practices, opposed/unopposed zone play, game situations and small sided games.
This book will enable you to coach your team to defend like one of the most successful defensive teams in Europe.
Tactical Analysis Coaching Topic SAMPLES:
Horizontal Shifts - Pressure, Cover and Balance
Defending When the Opposition Forward is Positioned Centrally
Effective Defending Against Two Forwards (Correct Positioning)
Defending When the Ball is in the Centre and the Forwards are Near the Sidelines
Defending Against 3 Narrow Forwards: Ball Near the Sideline (Wing Back in Effective Position)
Midfield Shape and Positioning to Prevent Through Passes From the Defenders
Defending against the 4-2-3-1 formation
Defending against the 4-4-2 formation
Defending against the 4-3-3 formation
Pressing With the Front Block (Forwards and Midfielders) Against a 3 and 4 Man Defence
Pressing Against the 4-2-3-1 and 4-4-2 and 4-3-3 and 3-5-2 and more...
A Chance for You to Learn the Juventus 3-5-2 System of Play, Tactics, Each Player's Responsibilities, Positioning & Movement With Every Possible Phase of Play
This Juventus 3-5-2 book shows you how exactly how Juventus defended, providing the positioning and movement of the players in all possible game situations.
Session and Practice Topic SAMPLES:
Horizontal Shifts of the Centre Backs (Pressure, Cover and Balance)
Cohesive Movements of the Centre Backs: When to Drop Back and When to Push Up
Defending an Open Ball Situation in a 4 Zone Positional Practice
Defending Against 2 Opposition Forwards by Applying Pressure, Providing Cover and Maintaining Balance
Defending With the Wing Back On the Weak Side in an Effective Position
Retaining Shape and Cohesion to Block Through Passes in Midfield
Defending Against the Opposition Midfield (Pressure, Cover and Balance)
Defending Against the Opposition Midfield in a 3 v 3 End Zone Game
Defensive Reactions to Retain a Numerical Superiority When Closing Down the Full Back Against the 4-2-3-1
Defensive Positioning of the Forwards to Block Passes into Midfield
Pressing With the Front Block and Preventing the Switch of Play in a Dynamic 7 v 7 Game
Pressing on the Flank With the Opposition Winger in a Deep Position - Functional Practice
Altersklasse:

U11 - U14

, U15 - U19

, U20 - Pro

Autor:

Athanasios Terzis

Sprache:

Englisch