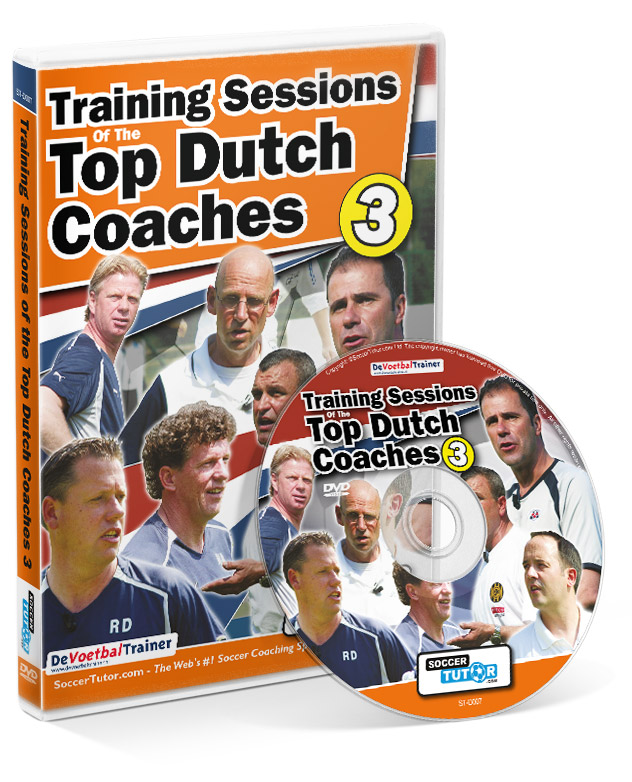 Training Sessions of the Top Dutch Coaches - Vol. 3 (DVD)
Product information
Runtime: 80 minutes
Region: PAL-Region Free, works on ALL region free standalone DVD players, PC's and MAC's
Age Group - practice for: age U10+.
Learn from some of the world's top Dutch football coaches as they take their professional training sessions for ALL Levels.
On volume 3 of this DVD series there is over an hour of training sessions with Peter Bosz, Wiljan Vloet, John van Loen, Rob Druppers, Maarten Arts, Henk Mariman and Toine van de Goolberg who will show you how to coach players of all levels.
Now you can use the same practices for your own sessions from the same Top Dutch Coaches that coached at; Feyenoord, PSV, NEC Nijmegen, FC Utrecht, Ajax, Sparta Rotterdam, and many more.
This gives you a completely unique opportunity to learn from these top professional Dutch coaches!
SESSION 1 - Peter Bosz
5 v 2 Possession Warm-Up
Quick Pass and Move Numbers Game
One Touch Short-Long Passing Combinations
Quick Direct Attack, Crossing and Finishing
Quick Attacking Play in a Small Sided Game
Exclusive Interview (about Passing and Attacking)
Coaching History:
AGOVV, De Graafschap and Heracles Almelo, Feyenoord (Technical Director) Winner Championship 1st Division with Heracles
SESSION 2 - Wiljan Vloet
Coordinative Speed Warm-Up
Passing Combination and Speed of Play
8 v 8 Four Zone Possession Game
8 v 8 Possession Small Sided Game
Exclusive Interview (Speed of play and Possession)
Coaching History:
SV Heusden, Dijka Steenwijk, JVC '31, Sparta '25, OJC Rosmalen, FC Den Bosch, Roda JC, Sparta Rotterdam, ADO Den Haag, PSV, NEC, Sparta Rotterdam (Technical Director).
SESSION 3 - John van Loen, Rob Druppers & Maarten Arts
John van Loen Session:
Dribbling, Pass and Move Warm-up
Pass, Move, Crossing and Finishing
Exclusive Interview (about pass, move and finishing)
Coaching History:
FC Utrecht (Academy Coach) 1998-2002, FC Utrecht (Academy Coach) 2002-2008, Csv Apeldoorn 2011-2012.
 
Rob Druppers Practice:
Coordination and Strength Circuit Training
Exclusive Interview (about conditioning)
Coaching History:
Conditioning coach at FC Utrecht, Personal Footballer Conditioning Coach.
 
Maarten Arts Practice:
Goalkeeper Pre-Match Warm-up
Exclusive Interview (about GK pre-match warm-up)
Coaching History:
NEC, Fortuna Sittard, NAC and FC Utrecht, Saudi Arabia National Team.
SESSION 4 - Henk Mariman
Functional Support Technique Training
Technical 1v1 (2v1) Small Sided Game
Technical 2v2, 3v2, 3v3 Small Sided Game
Exclusive Interview (Functional training)
Coaching History:
Sporting Lokeren (Academy Coach), Ajax and Germinal Beerschot (Head of Youth Development), Club Brugge KV (Technical Director).

SESSION 5 - Toine van de Goolberg
Speed and Agility 'TAG' Game
Coordination, Agility and Speed Circuit
Plyometric Circuit Training
Strength and Speed Reaction Training
Speed Endurance Training
Cooling Down Exercises
Exclusive Interview (conditioning training)
Coaching History:
Exercise psychologist at many places including for the Dutch national team.
Provides advice in the field of periodisation and football endurance training to numerous coaches at professional and amateur teams.
Feyenoord (2000-2005), NEC Nijmegen, Feyenoord (2008-2013)
As well as viewing the practices you can listen and view all the coaching points translated into English.
Get exclusive access to Top Dutch professional coaches at work and learn new ideas. This will help you to improve your players and teams abilities.
To help you there are very clear and detailed 3D diagrams which accompany most practices.
This DVD combines the talents of some of the best Top Dutch coaches in the world to provide a huge resource and a very high level of content which is extremely rare. Learn from some of the Top Dutch Coaches in the world!
Altersklasse:

U11 - U14

, U15 - U19

, U20 - Pro

Sprache:

English