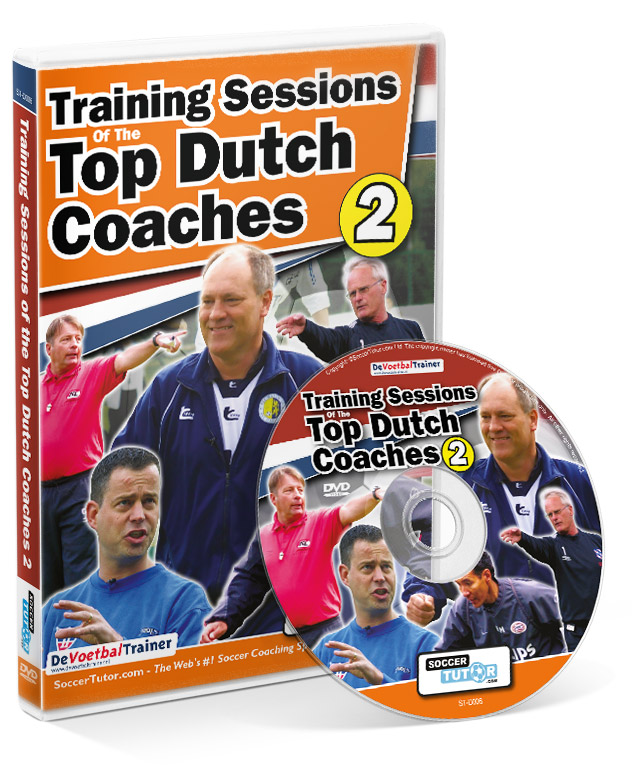 Training Sessions of the Top Dutch Coaches - Vol. 2 (DVD)
Product information
An unbelievable chance for you to learn from some of the world's top football coaches as they take their professional training sessions for ALL Levels.

On volume 2 of this DVD series there is over an hour of training sessions with Martin Jol, Co Adriaanse, Foppe de Haan, Ricardo Moniz and Raymond Verheijen who will show you how to coach players of all levels.

Now you can use the same practices for your own sessions from the same Top Dutch Coaches that coached at; Ajax, Spurs, Fulham, Porto, Dutch National Teams, Feyenoord, PSV, FC Barcelona, Chelsea, Manchester City and many more..

This gives you a completely unique opportunity to learn from these top professional Dutch coaches!
Runtime: 95 minutes
Region: PAL-Region Free, works on ALL standalone DVD players, PC's and MAC's
Age Group suitable for: from age U8+.
Price: 29,95 €


SESSION 1 - Martin Jol
Warm-Up
Zonal Defending in a 3 v 2 and 2 v 1
Zonal Defending in a 7 v 6, 8 v 7 and 8 v 8
Exclusive Interview (about Tactical strategy and decision making)
Exclusive Tips (about Zonal Defending)
Coaching History:
Roda JC, RKC Waalwijk, Tottenham Hotspur, Hamburger SV, Ajax and currently at Fulham FC.


SESSION 2 - Co Adriaanse
Warm-Up
Transitional Pressing Game
Pressing in a 2 v 2 Possession Game
Pressing in a 6 v 6 Small Sided Game
Pressing in a 8 v 9 Small Sided Game
Exclusive Interview (training effectively, maximising practice time)
Exclusive Tips (about Pressing in practice and games)
Coaching History:
FC Zwolle, ADO Den Haag, Willen II, Ajax, AZ, Porto, Metalurh Donetsk, Al-Sadd, Red Bull Salzburg, Olympic Qatar and now FC Twente. Head of Youth Development for five seasons at Ajax.


SESSION 3 - Foppe de Haan
Warm-Up
Short Passing Combinations
Counter - Fast Break Attacks
Counter-Attacking in a 6 v 6 Small Sided Game
Exclusive Interview (about counter-attacking)
Coaching History:
SC Heerenveen for 18 seasons, of which 12 seasons he served as the Technical Director, Netherlands under-21, Indonesia U-23, Ajax Cape Town, Dutch Cup final twice and Champions League in 2000. Rinus Michels oeuvre award in 2009


SESSION 4 - Ricardo Moniz
Dribbling Techniques and Moves to beat
1 v 1 Duels with Finishing
2 v 2 with Finishing in a Small Sided Game
Exclusive Interview (Individual technical qualities)
Analytical importance of "Coerver Coaching Method"
Coaching History:
VV Nuenen (Head of Youth Development and Trainer Coerver-method), Feyenoord (Trainer Coerver-method, F1 up to second team), Grasshoppers (Head of Youth Development and Trainer of the second team) and PSV (Trainer Coerver-method and Trainer A1), Tottenham Hotspur (Skills Coach), Hamburger SV (Technical coach), FC Red Bull Salzburg (Personal coach)


SESSION 5 - Raymond Verheijen
Warm-Up
1 v 1 Duels: Acceleration and Finishing
Quick Wide Play: Crossing and Finishing
Conditioning in a 11 v 11 Game
Exclusive Interview (about Soccer Specific Conditioning)
Coaching History:
Exercise psychologist at many places including for the Dutch national team.
Provides advice in the field of periodisation and football endurance training to numerous coaches at professional and amateur teams.

KNVB - tutor for the subject of football endurance training. Achieved success as exercise psychologist/football endurance coach by coming third at World Cup 2002 with South Korea working with Head Coach Guus Hiddink.

FC Barcelona, Zenit Saint Petersburg, Chelsea F.C, Manchester City and Assistant Manager to the Welsh national side
Altersklasse:

U11 - U14

, U15 - U19

, U20 - Pro

Sprache:

English