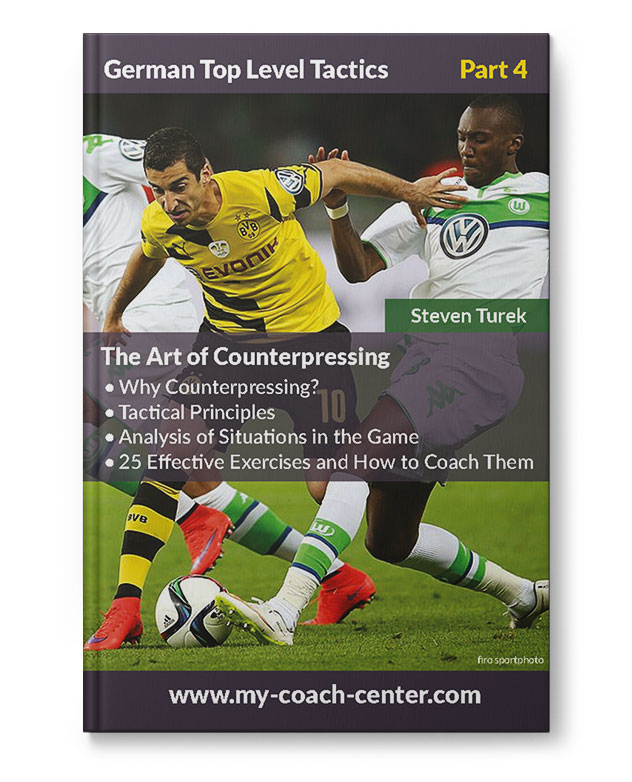 The Art of Counterpressing (Booklet)
Auch als anderes Medium verfügbar
Product information
Series: German Top Level Tactics - Part 4
Why Counterpressing?
Tactical Principles
Analysis of Situations in the Game
25 Effective Exercises and How to Coach Them
Author: Steven Turek
Edited by: Peter Schreiner
Translated by: Tjorben Becker
Editor: Institute of Youth soccer, Essen - Germany (www.soccer-coaches.com)
Pages: 69 - Graphics: 52
Content:
After the first three parts of the series "German Top Level Tactics" focused on attacking strategies, the author Steven Turek now devotes the fourth part on the interesting topic of counterpressing. Already in the first parts, the author made remarks and defined fundamental principles to this topic - now he presents an entire book focusing on counterpressing! Firstly, the question will be answered what counterpressing actually is and why it is meaningful to implement it into your philosophy. In the following, Turek focuses on descriptions to all measures which could be applied in each game phase. Among others, the following questions will be answered:
Which coherence exists between measures and ball possession (e.g. definite attacking strategies) and counterpressing?
Which measures need already be applied in own ball possession?
What are the most important fundamental principles in the moment of a lost ball?
The theoretical part will be completed with possibilities to act after successful counterpressing - but also what to do, if counterpressing fails.
Especially the detailed practical part of this book is to be seen as a highlight. Steven Turek presents 25 exercises with detailed descriptions and extensive variations which enable the effective and playful training of counterpressing with every number of players and players of all ages. 
Altersklasse:

U11 - U14

, U15 - U19

, U20 - Pro

Sprache:

English