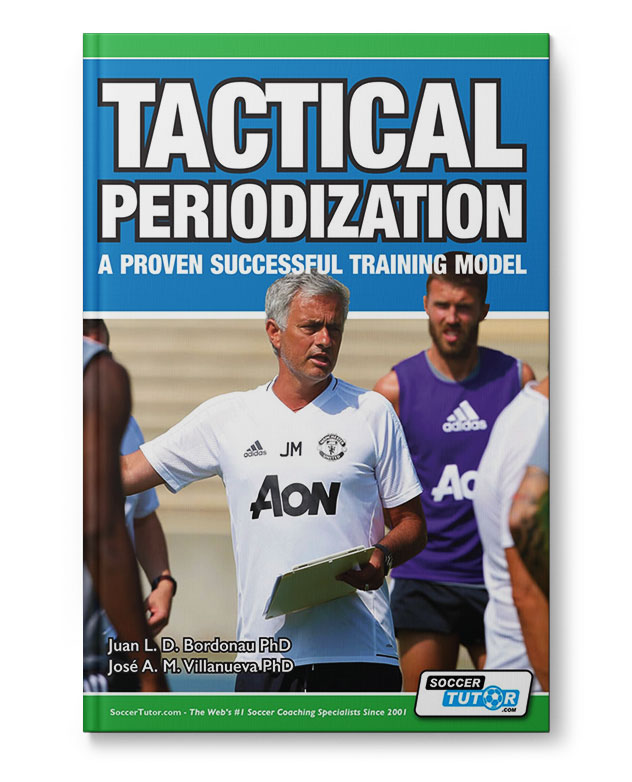 Tactical Periodization - A Proven Successful Training Model (Book)
Auch als anderes Medium verfügbar
Product information
244 Pages
FULLCOLOUR Print
120 Tactical Periodization Topics
60 Tactical Situations & Practices
U16-Pro Level
Tactical Periodization - A Proven Successful Training Model
Learn the Tactical Periodization Method used by some of the World's Top Coaches
Improve all attributes (technical, conditioning & decision making) in every tactical practice
Accelerate your players' tactical understanding of their positional roles & responsibilities
Players will react quicker, be sharper, and make better decisions in all tactical situations
This groundbreaking book written by Juan Luis Delgado Bordonau PhD and José Alberto Mendez Villanueva PhD is a complete blueprint for Tactical Periodization, providing coaches with the tools to organise the whole football training process - from one specific training practice, to full season planning.
Tactical Periodization is a proven successful football coaching method. All training is driven by tactical training. It allows you the coach, to improve all other attributes (technical, conditioning and decision making) at the same time, within every single tactical practice.
The Benefits of Tactical Periodization:
Helps you accelerate your players' understanding of their positional roles and responsibilities in an efficient way, which ultimately improves the team's tactical performance
Assures your players are always prepared tactically, mentally and physically for competitive matches
Your players (and team) will react quicker, be sharper, and make better decisions in all tactical situations
"It's all planned and researched so we create these training sessions that are harder than a game. It gives us confidence knowing we have trained to a greater intensity."
Jose Mourinho
The " Game Model" guides the entire training process. Training must "model" the game through specific practices (specificity) that include all the tactical game principles designed by the coach. You will learn the principle of performance stabilisation, so you can maintain your team's high performance levels throughout a full season.
"For me, training means training in specificity, creating practices that allow me to enhance my principles of play."
Jose Mourinho
Accelerate your players' tactical understanding of their positional roles & responsibilities - Players will react quicker, be sharper, and make better decisions in all tactical situations
This is your chance to learn the Tactical Periodization method which has been applied by top coaches, with José Mourinho being the most influential and successful. Other examples are Vitor Pereira, Leonardo Jardim, Brendan Rodgers, Marco Silva, Nuno Espírito Santo and André Villas-Boas.
Many other top coaches ( Pep Guardiola among them) have adopted part of these Tactical Periodization principles, building their training method around the development of a game model and its principles, using the tactical dimension to lead their training.
This book includes:
The background and development of Tactical Periodization
The Methodological Principles
The Game Model (specificity)
Tactical Organisation in the 4 Phases of the Game
Analysing the Previous Match Performance
Analysing the Next Opponent
Weekly Training Objectives
Training Sessions for a 1 Match Week
Training Sessions for a 2 Match Week
There are many Tactical Topics and Training Practices including:
Building Up Play from the Back and Creating Overloads Against a Compact 4-4 Formation
Attacking with "Third Man Runs"
Reorganising into Defensive Block Positions
Pressing as a Collective Unit + Fast Break Attack
Dropping Off, Compactness and Counter Attack with Switch of Play
Defending Direct Play into 2 Forwards and Winning the Second Ball
The Authors
Juan Luis Delgado Bordonau PhD
Credentials:
UEFA PRO Coaching Licence (Spanish FA)
PhD in Sports Science (University of Valencia)
MSc in Sports & Exercise Psychology (Autonomic University of Madrid & Spanish Olympic Committee)
Postgraduate Diploma in Football Management (Georgetown University)
BSc Physical Activity & Sports Science - Major in Football (University of Valencia)
Diploma in Teaching Physical Education (Jaume I University of Castellon)
Premier Diploma NSCAA (National Soccer Coaches Association of America)
International Coaching Qualification (Netherlands FA)
Previous and Current Coaching Roles:
ASPIRE Academy Qatar (2007 - Current) - Elite Scouting Coordinator (2013 - Current), Coach (2007 - 2013)
Valencia CF (2006 - 2007) - Academy Technical Director
Villarreal CF (1999 - 2006) - Academy Coach & Technical Director (U7 to U14)
José Alberto Mendez Villanueva PhD
Credentials:
PhD in Sports Science in Sport Science (University of Oviedo, Spain)
MSc in Exercise Psychology (University of Western Australia)
BSc Physical Activity & Sports Science (University of Las Palmas de Gran Canaria, Spain)
Diploma in Teaching Physical Education (University of Oviedo, Spain)
Previous and Current Coaching Roles:
Qatar Football Association (2011 - Current) - Football Performance & Science Department (Head of Fitness)
ASPIRE Academy Qatar (2007 - Current) - Head of Physiology and Strength & Conditioning, Fitness Coach, Physiologist / Sport Scientist
Bulgarian Football Union (2011 - 2013) - Sport Scientist Consultant
PCF Litex Lovech (Bulgaria) (2010 - 2011) - Sport Scientist Consultant
CSKA Sofia (Bulgaria) (2009 - 2011) - Sport Scientist Consultant
Altersklasse:

U11 - U14

, U15 - U19

, U20 - Pro

Sprache:

English