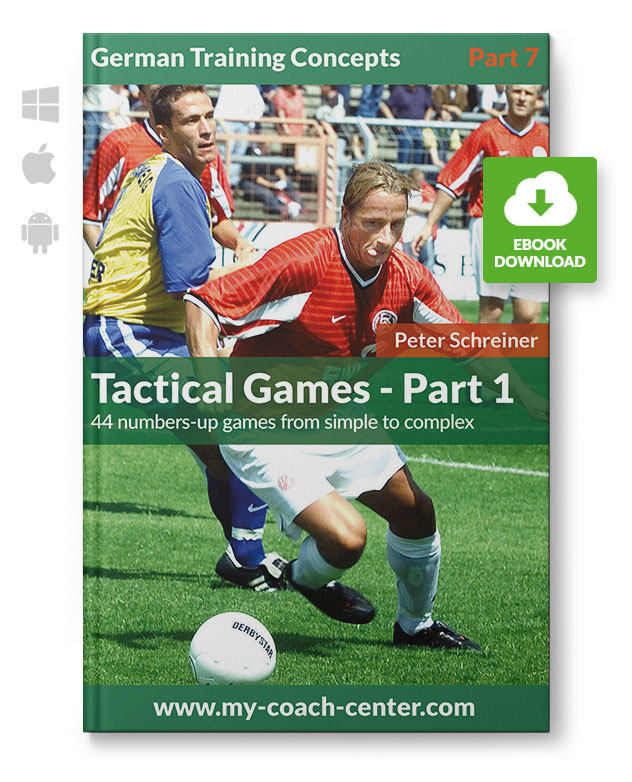 Tactical Games - Part 1 (eBook)
€13.95*
%
€14.95*
(6.69% saved)
Auch als anderes Medium verfügbar
Product information
Author: Peter Schreiner
Pages: 52
Graphics: 44
Exercises: 44
Tactical Games - Part 1
44 numbers-up games from simple to complex
How do players learn how to hold the ball, run free properly and recognize gaps in their opponent's defence and use them at lightning speed? How do you convey a clever game in depth, a surprising game shift with a final goal kick?
In this book Peter Schreiner presents 44 systematically ordered tactical games to convey important tactical behaviours in attack and defence.
Attack:
Staying in ball possession (determine playing speed)
Running intelligent (use gaps)
Shift side of the field
Triangular formations
Double pass and fast combination play
Playing in depth and exploiting goal-scoring opportunities
Defence:
Skilful duel behaviour
Delay an attack
Provoke mistakes
Anticipate and catch balls
The 44 tactical games are well illustrated and contain important information about the organisation, the structure of the exercises, the procedures, possible variants, as well as additional tips and suggestions.
Overview of the exercises:
20 exercises 3 v 1
16 exercises 4 v 2
8 exercises 6 v 4
Altersklasse:

U11 - U14

, U15 - U19

, U20 - Pro

Sprache:

English