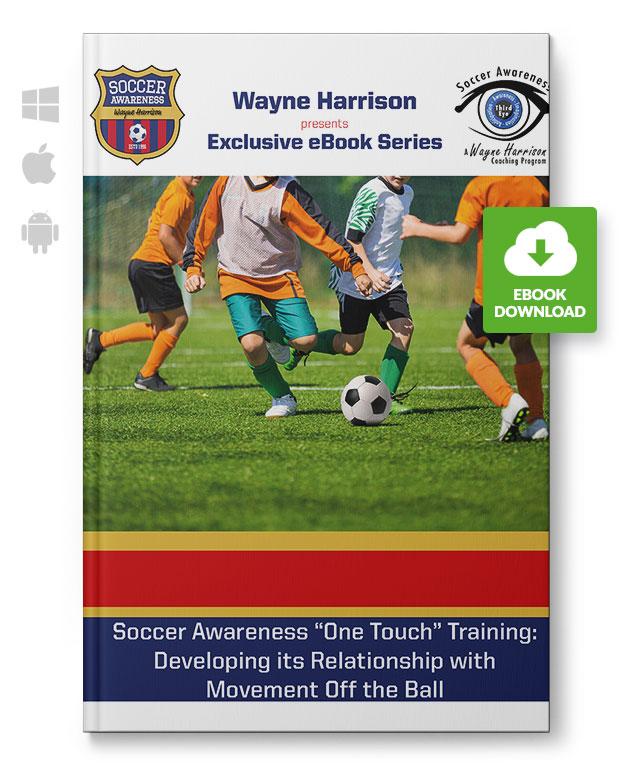 Soccer-Awareness One Touch Training (eBook)
Product information
This 102 page eBook explores one touch training and movement off the ball and includes 90 pages of drills that you can do with your team.
One Touch Training: Teaches the player WHEN to play one touch; and when NOT to play one touch. We are teaching players to have a ONE TOUCH MENTALITY. A One touch mentality teaches players to recognize the best options; and therefore make the best DECISIONS; BEFORE and in ADVANCE of receiving the ball.
Movement OFF the ball: This mentality conditions the mind of players OFF the ball to position and move to help the player who is receiving the ball. This means we want players to always; at every moment; THINK: "I only have One touch"; therefore this will force players to always do what I call the "LOOK and THINK" before they receive the ball to see several options and pick out their best option, which may actually be to DRIBBLE!!
When you use these training sessions consistently you will see the development of that relationship between having a ONE TOUCH mentality and Movement OFF the ball.
So in a nutshell:
LOOK (before receiving the ball);
MOVE (find space off the ball based on positioning of teammates and opponents):
THINK (what is my best option?):
EXECUTE (the Decision; or the SKILL Factor).
CONTENTS
Awareness One Touch Theme Developmental Training: Incorporating Movement Off the Ball
The Continuums "Look and Think" Model of Development
Soccer-Awareness: Basic Principles of Development (One Touch Play)
Non - Competitive Awareness Numbers Game: Passing In Sequence
Three Team Awareness One Touch Game
Identifying Levels Of Awareness
Teaching The Fundamentals Of The Awareness Coaching Method
Working On Peripheral Vision Through The Specific Peripheral Vision Coaching Game
Awareness Training And Movement Off The Ball
Developing A Transition Game To Ensure "Movement Off The Ball" In Quick Passing Building To Awareness In One Touch Play
Using Mannequins (Or Cones) In Training To Teach Spacing, "Movement Off The Ball" And Quick One Touch Play Where Possible
"Movement Off The Ball" Between The Units Through The Shadow Striker
Three Zone Training Developing "Movement Off The Ball" Using A 3 V 3 At Each End Increasing The Difficulty
Developing Awareness And "Movement Off The Ball" Using Quick Transition Directional Play
Teaching Movement "Off The Ball" Through The Transition Directional Target Game With 16 Players
Developing "Movement Off The Ball" Through The Directional Passing And Support Three Zone Game
Developing Team Play And "Movement Off The Ball" Through A Directional Four Team Awareness Game With Sixteen Players
Improving One And Two Touch Play And "Movement Off The Ball" Using The Awareness Three Team Game Focusing On Quick Thinking, Quick And Early Foot Positioning; Support And Finishing.
Altersklasse:

U11 - U14

, U15 - U19

, U20 - Pro

Autor:

Wayne Harrison

Sprache:

English