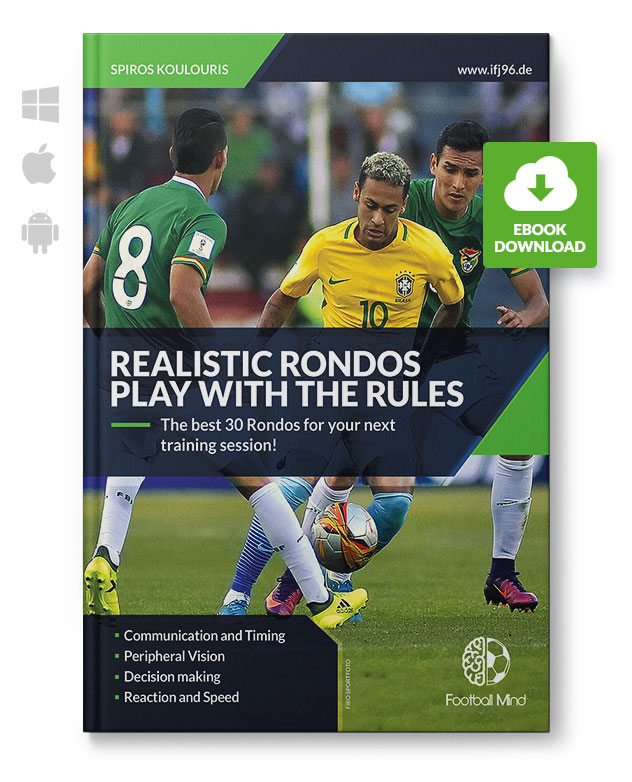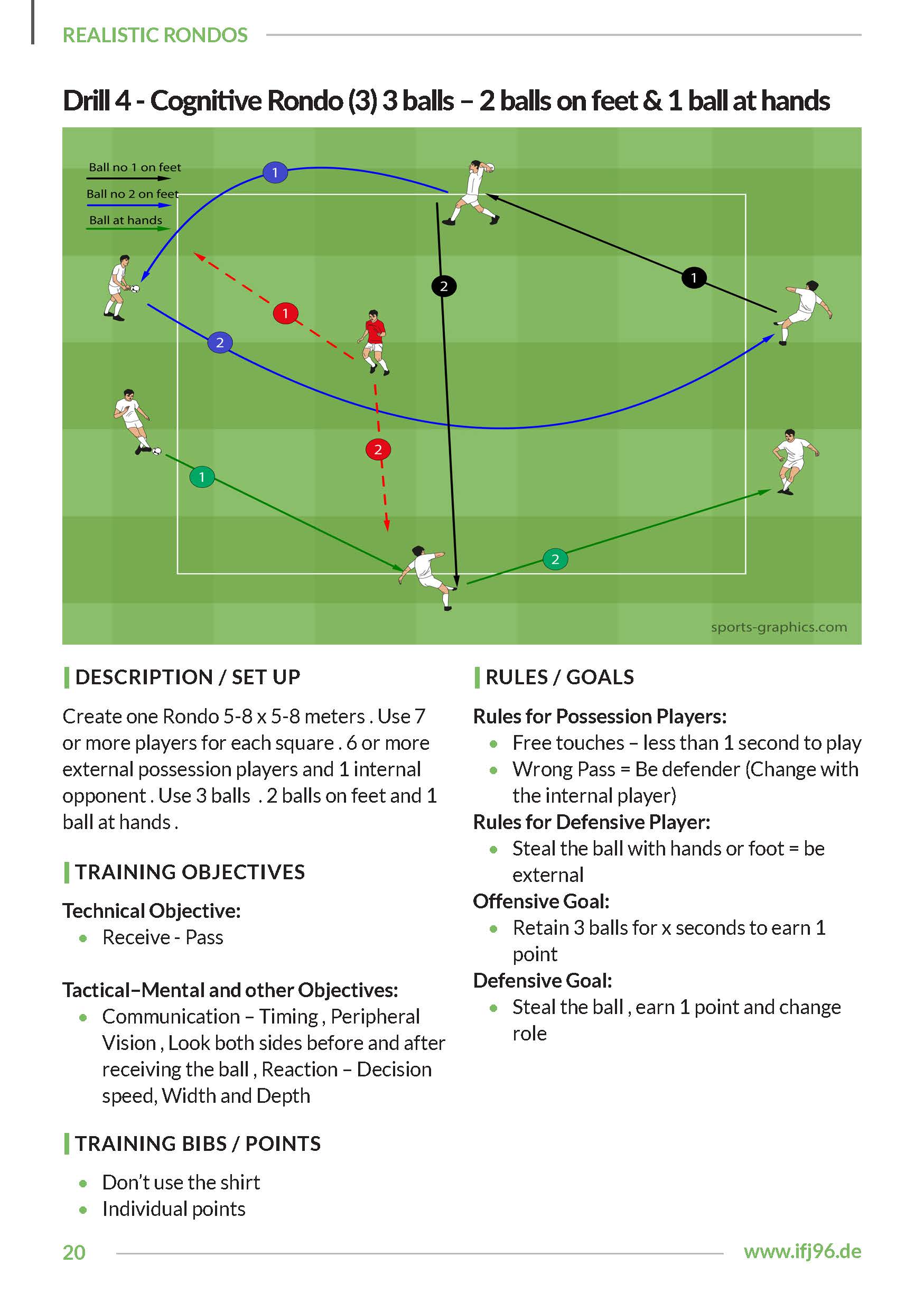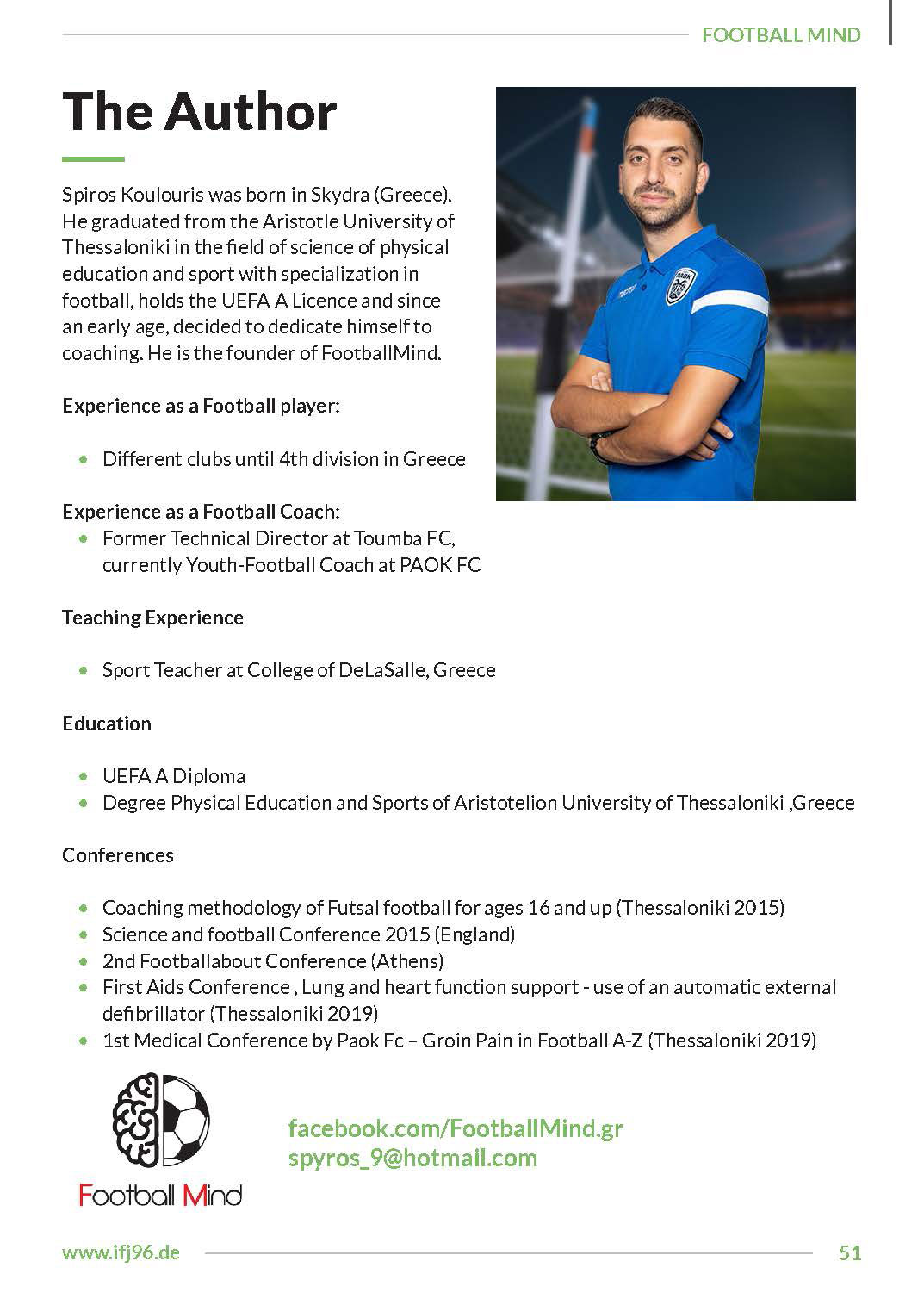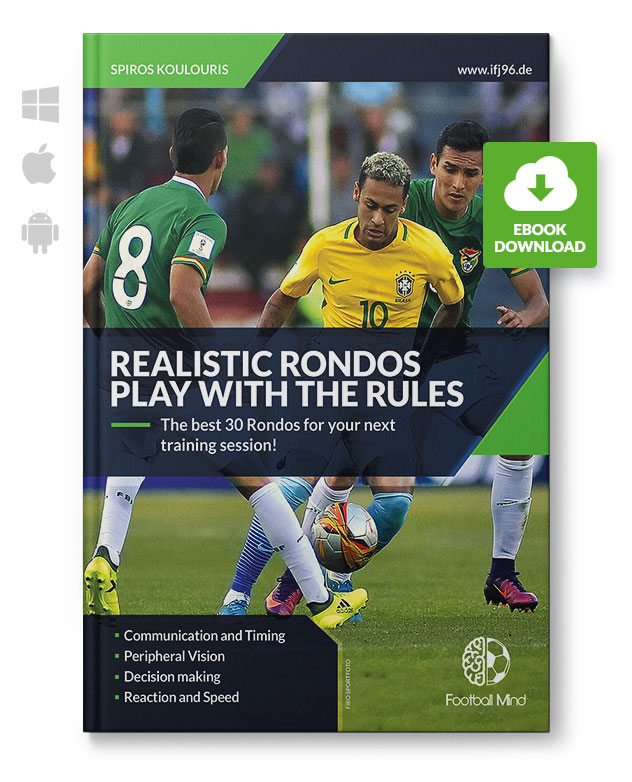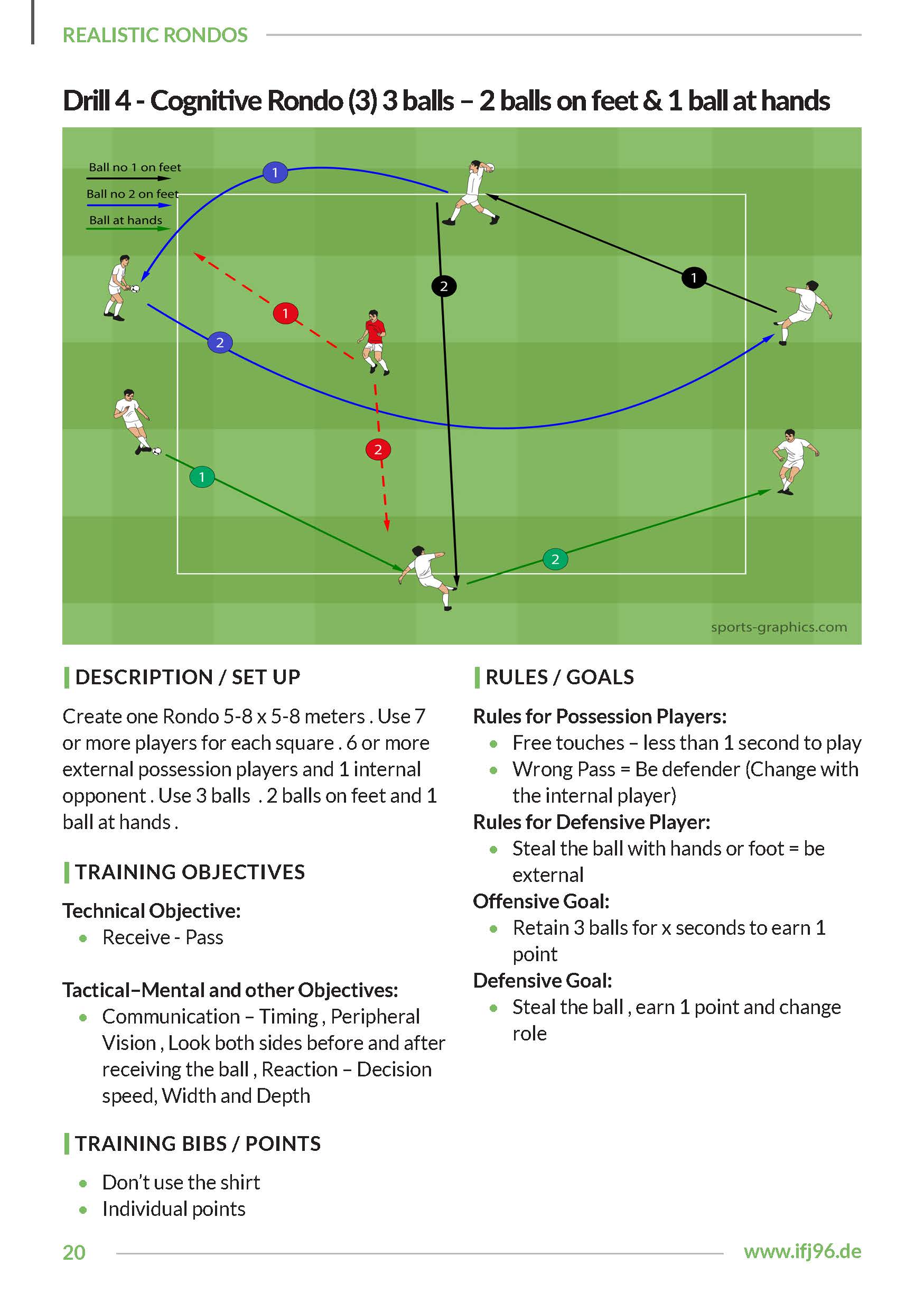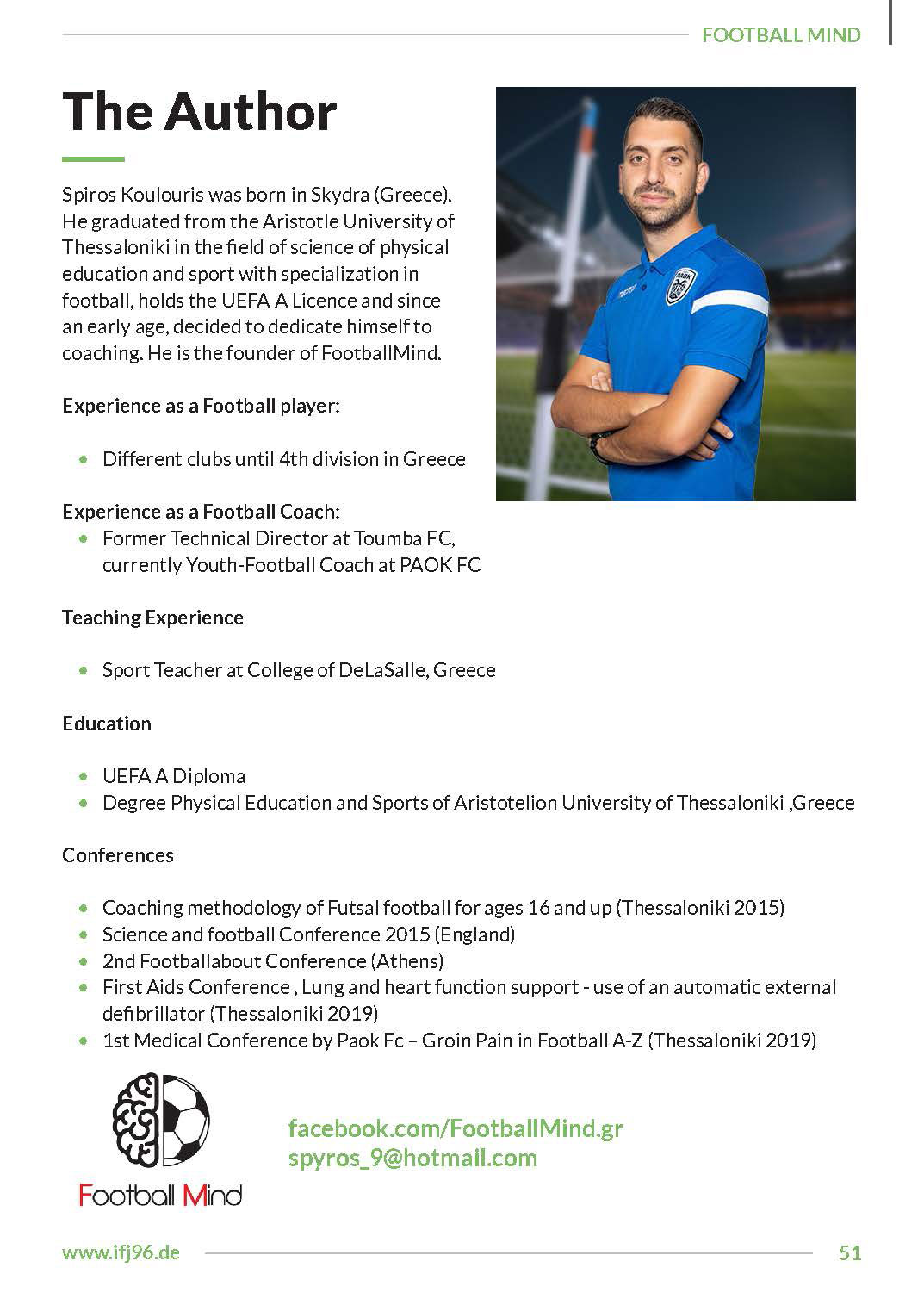 Realistic Rondos (eBook) - The best 30 Rondos for your next training session!
Product information
Author: Spiros Koulouris 
Edited by: Peter Schreiner
Publisher: Institute for Youth-Soccer, (IFJ96)
Pages: 51
Graphics: 30
Exercises: 30
In this eBook, coach Spiros Koulouris shows you the best 30 rondos for your next training session.
With the help of rondos, improve your players communication and timing, peripheral vision, reaction, speed and the ability to make the right decision faster!
Train every football habit on the pitch, with game like situations, challenging objectives and rules, that will motivate your players to mentally and physically give it their best!
The rondos in this eBook are suitable for any age group and can be implemented anytime during the season.
Every rondo is described and illustrated in great detail, with training objectives (technical, tactical and mental) and specific rules for each position (possession players and defenders).
Topics
The FootballMind Philosophy
The Importance of Rondos
The rondo is the best way to introduce these important habits to your players in a simple way and with the opponent's resistance. 
The Importance of Rondos 
FootballMind Innovative Rondos 
When to Use a Rondo? 
Emphasis on the Details & Rules 
Number of Players - Size of the Rondo 
Opponents in the Rondo 
Repeat Successful 
The Meaning of "X" Passes 
Points - Change Roles 
Peripheral Vision 
Communication Timing 
Decision Speed 
About the Author
Spiros Koulouris was born in Skydra (Greece). He graduated from the Aristotle University of Thessaloniki in the field of science of physical education and sport with specialization in football, holds the UEFA A Licence and since an early age, decided to dedicate himself to coaching. He is the founder of FootballMind.
Experience as a Football player:
Different clubs until 4th division in Greece
Experience as a Football Coach:
Former Technical Director at Toumba FC, currently Youth-Football Coach at PAOK FC
Teaching Experience
Sport Teacher at College of DeLaSalle, Greece
Education
UEFA A Diploma
Degree Physical Education and Sports of Aristotelion University of Thessaloniki ,Greece
Conferences
Coaching methodology of Futsal football for ages 16 and up (Thessaloniki 2015)
Science and football Conference 2015 (England)
2nd Footballabout Conference (Athens)
First Aids Conference , Lung and heart function support - use of an automatic external defibrillator (Thessaloniki 2019)
1st Medical Conference by Paok Fc – Groin Pain in Football A-Z (Thessaloniki 2019)
Altersklasse:

U11 - U14

, U15 - U19

, U20 - Pro

Autor:

Spiros Koulouris

Sprache:

English
---
Klasse eBook. Viele Rondos gut erklärt und leicht im Training umsetzbar.
ΣΩΣΤΗ ΥΠΟΔΕΙΞΗ ΑΣΚΗΣΕΩΝ, ΚΑΤΑΝΟΗΣΗ ΧΩΡΙΣ ΣΥΝΘΕΤΟΥΣ ΟΡΟΥΣ
ΕΞΑΙΡΕΤΙΚΟ!
excelente para profesores dedicados a entrenador jugadores jóvenes
muy buena excelente texto que nos ayuda a mejorar nuestra labor como entrenadores
Enthält ein paar gute, teilweise für mich
Enthält ein paar gute, teilweise für mich neue Rondos.
Excellent idea with training rondos. Top level work. Great job spyros.
The game as it should be teached.
High-quality thinking and job.
Great e-book for coaches with detailed analysis. Thanks!
Excellent product, very insightful content, professional advice to improve your skills! Highly recommended!
Excellent job. Very helpful qnd fully detailed with impressive exercises. Very good and easy descriptions. Nice job