Pep Guardiola Tactics - Successful wing play - 1-4-3-3 (Download)
Positioning, movements and combination play on the wings based on the tactics of Pep Guardiola with Manchester City
Product information
Author and Presenter: Athanasios Terzis
Language: English
Length: 68 min.
Successful wing play with the 1-4-3-3 formation – Positioning, movements and combination play on the wings based on the tactics of Pep Guardiola with Manchester City
When a team dictates possession, the opponents are usually forced in a passive role within their own half of the field. In order to be effective during defending they get well organized and compact especially in the central area which is the crucial part of the field. This reaction makes it difficult for the attacking team to break through them from the centre, so they should search for solutions in wide areas were more space can be found.
In this presentation, which includes detailed diagrams and videos, we will analyse the attacking tactics of Pep Guardiola with Manchester City. The focus will be on how, through appropriate positioning, well timed movements and effective combination play on the wings, the Citizens manage to break through the opposition.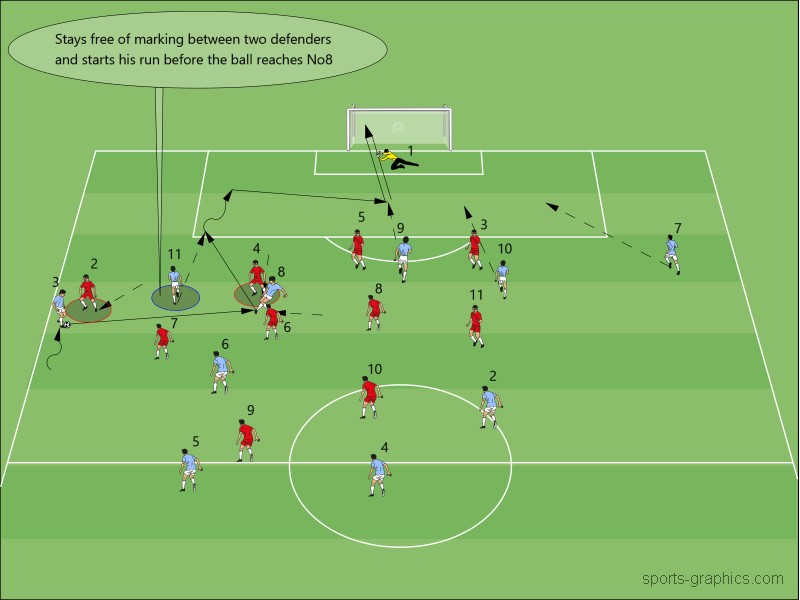 Great attention is paid to the positioning and the reactions of the opposition, as the opponents play significant role in every tactical situation and we have to take them into account for appropriate decision making. Additionally, several animated drills are presented to help coaches apply the tactics used by Pep Guardiola to their teams, by simply adding or adjusting them to their own training sessions.
The analysed tactics for successful wing play can also be used with every possible formation by making the appropriate adjustments.
Altersklasse:

U11 - U14

, U15 - U19

, U20 - Pro

Autor:

Athanasios Terzis

Sprache:

English