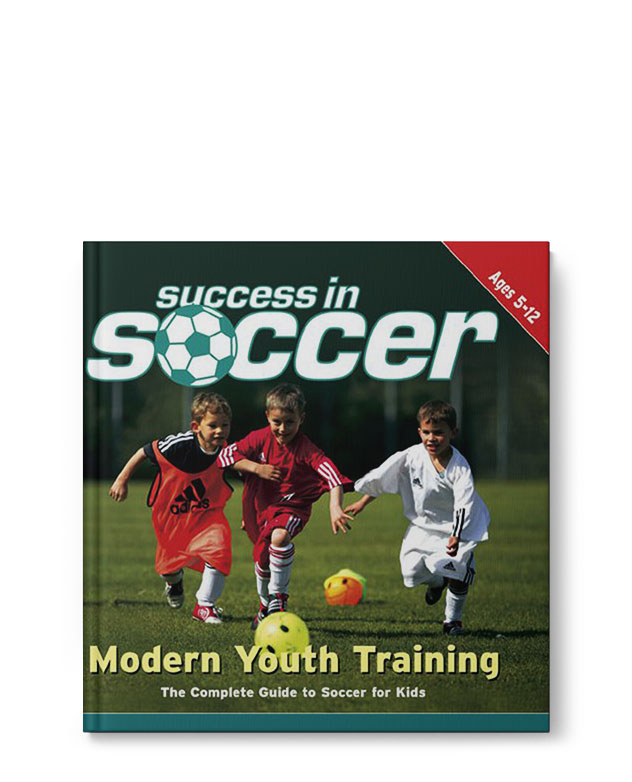 Modern Youth Training - The complete guide to soccer for kids (Book)
Product information
Pages: 335
Official Soccer Coaching Book of the German Soccer Association with DFB coaches and educators Ralf Peter and Gerd Bode.
A new approach to children's soccer: Guidelines for practice, match play and player guidance
Get Information about the German Soccer Education System
Making your program age-appropriate
This soccer book shows how youth coaches in Germany run soccer practice sessions and games for players between the ages of five and twelve.
The comprehensive soccer training section provides:
specific recommendations for attractive, child-oriented soccer exercises that build a solid athletic foundation,
basic soccer techniques.
With an abundance of age-appropriate small-sided soccer games and sample practice sessions, both indoor and outdoor, this book is a gold mine for every youth soccer coach! The book can also be used as a basis for continuing education.

Children's soccer should be different from adult soccer
PRACTICE
Adult soccer is oriented toward performance and competition
Children's soccer: new experiences, fun, learning soccer
MATCH PLAY
Adult soccer: game formation, tactics
Children's soccer: free play without interference
OBJECTIVES
Adult soccer: championship, promotion
Children's soccer: basis for lifelong enjoyment of sports
SUCCESS
Adult soccer: final score
Children's soccer: positive experiences and learning for all children!
COACH
Adult soccer: judged by success (score)
Children's soccer: judged by progress of all children
To fully develop their creativity and enjoyment of the game, children have to have the freedom to try things out at practice, to play freely and without interference
Table of Content - Modern Youth Soccer
Soccer in today's world Methods and objectives
Building Block 1: General movement training
Building Block 2: Soccer-oriented movement training
Building Block 3: Soccer-specific technique training
Buiding Block 4: Playing soccer Matchplay Guidance
PLAYING AND PRACTICING WITH FIVE· TO SIX·YEAR·OLDS
Guidelines
Building Block 1: General movement training
Building Block 2: Soccer-oriented movement training
Building Block 3: Playing soccer
Play sessions
Play days
PLAVING AND PRACTICING WITH SIX· TO EIGHT·VEAR·OLDS
Guidelines
Building Block 1: General movement training
Building Block 2: Soccer-oriented movement training
Building Block 3: Soccer-specific technique training Building
Block 4: Playing soccer Practice sessions
PRACTICING WITH EIGHT· TO 12-VEAR·OLDS
Guidelines
Building Block 1: General movement training
Building Block 2: Soccer-oriented movement training
Building Block 3: Soccer-specific technique training
Building Block 4: Playing soccer
Practice sessions
ORGANIZING PRACTICE SESSIONS
lntroduction
Age-appropriate configurations
lndoor training
THE CHILDREN'S COACH
Qualifications
Altersklasse:

U7 - U10

, U11 - U14

Sprache:

English