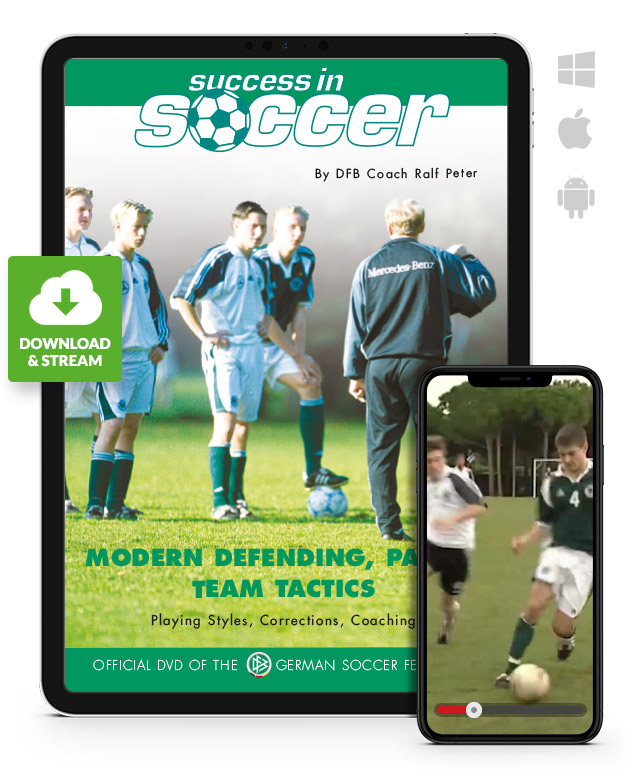 Modern Defending - Part 3 - Team Tactics (Download)
Auch als anderes Medium verfügbar
Product information
Author: Ralf Peter (DFB coach and educator)
Length: 48 minutes
Soccer Tactics
Modern Defending Part 3 -  Team Defense Tactics
This eVideo includes:
- Introducing the back four system
- Playing with a 4-3-3 system
- Playing with a 3-5-2 system 
This eVideo shows you how to teach a ball-oriented defensive concept on the basis of comprehensive individual and group defensive tactics training. While the method shown here uses a playing system with a back four, it can be applied to other systems as well.
Series Modern Defending 1-3
In this series the Ralf Peter shows a systematic method of teaching ball-oriented defense, focusing on: tactical sequences in detail, recognizing and correcting mistakes, and relevant exercises.
Whether your formation includes a sweeper, a back three or a back four, 1 v. 1 play is the foundation for all forms of defending. That's why individual defensive training is the first step toward ball-oriented defense.
Building on individual defensive training, the next critical step forward toward ball-oriented defense is to learn defensive tactics for groups of two, three and four. Outnumbering your opponents near the ball is the ultimate goal of ball-oriented defense.
Introducing the back four system (basic movement of the back four, back four plus two midfield defenders, back four plus four midfielders, playing with a 4-4-2 system: defensive third and midfield pressing, attacking third pressing).
Altersklasse:

U11 - U14

, U15 - U19

, U20 - Pro

Sprache:

English