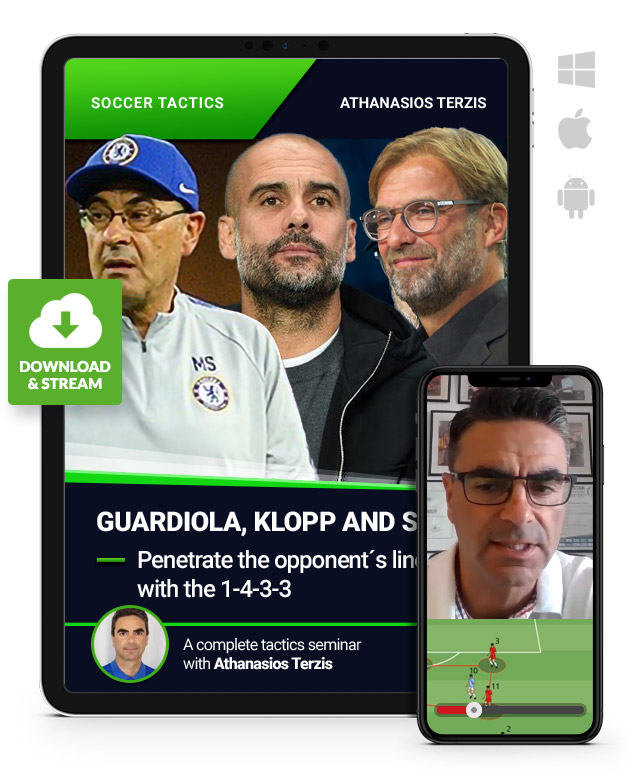 Guardiola, Klopp and Sarri - Penetrate the opponent´s lines with the 1-4-3-3 (Download)
Based on the tactics of Guardiola, Klopp and Sarri
Product information
Author and Presenter: Athanasios Terzis
Language: English
Length: 67 min.
How to penetrate the opponents' lines with the 1-4-3-3 formation – Finding a way to move the ball to the free space between lines according to tactics used by Guardiola, Klopp and Sarri
The aim during the attacking phase is to create scoring chances and scoring goals. In order to achieve this the ball should be moved in specific areas of the field so that a final pass or a cross under good conditions can be made. Moving the ball to the desired areas can be carried out through different styles of building up. If positional play is chosen then short passing and gradual build up is used, whereas in case of direct play long balls are played. Finally, when mixed build up is applied both short and long passing is used.
In this presentation which includes detailed diagrams and videos, we will analyse the tactics used mainly by Pep Guardiola and other top coaches like Jurgen Klopp and Maurizio Sarri. The concepts of space, of effective supporting angles and the types of passes (first, second and third line) used according to the situation, are analysed in detail.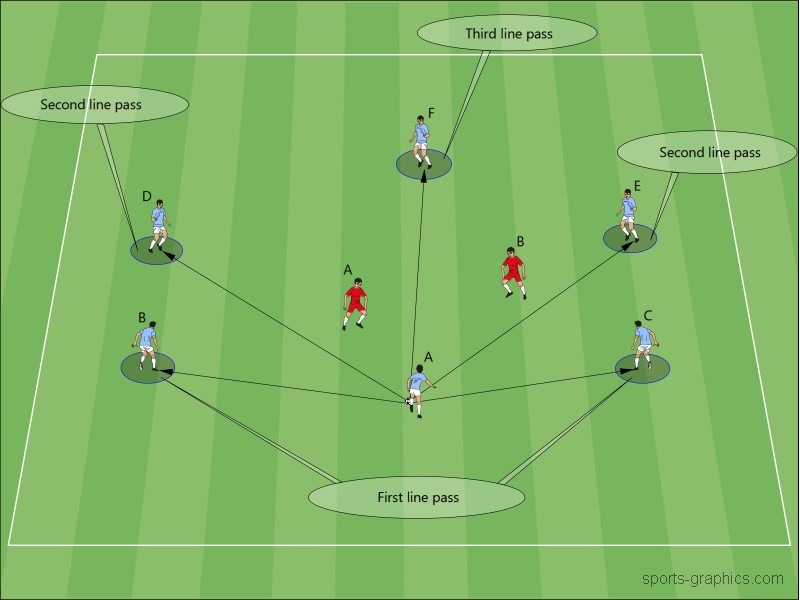 The focus is on how all the above can be used effectively in order for the attacking team to exploit the available space between lines. By this strategy the ball is gradually moved from line to line, with short and safe passing until it reaches the desired areas for creating scoring chances.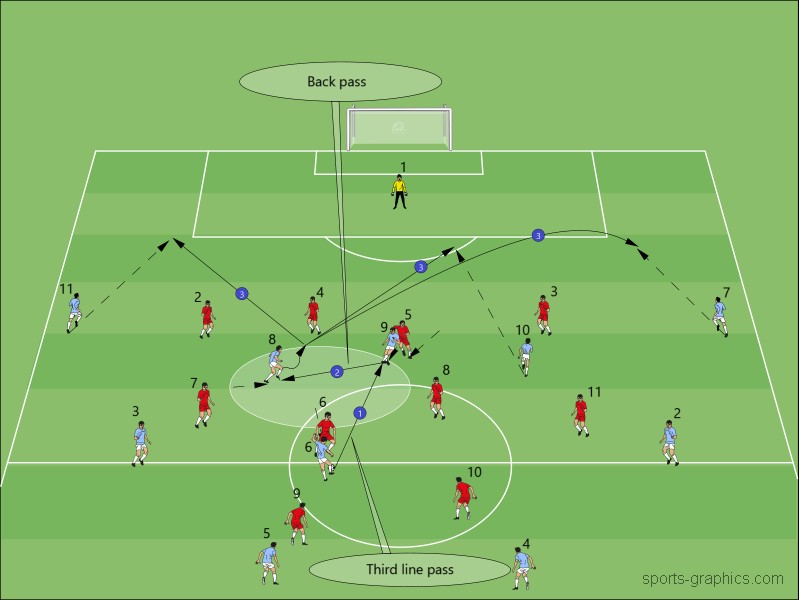 The analysis is followed by animated drills to help coaches apply the tactics used to their teams, by simply adding or adjusting them to their own training sessions. The analysed tactics for penetrating the opposition's lines is presented with the 1-4-3-3 formation, but it can also be used with every possible formation by making the appropriate adjustments.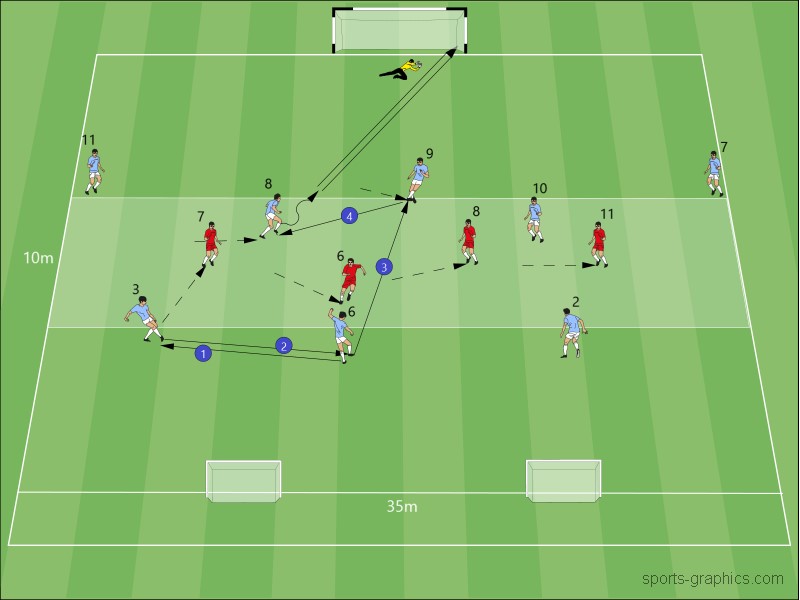 Altersklasse:

U11 - U14

, U15 - U19

, U20 - Pro

Autor:

Athanasios Terzis

Sprache:

English
---
Qualitativ hochwertig. Man bekommt Einsichten in die taktischen Denkweisen der Top Trainer. Leider ist das Buch auf Englisch. Kriegt man irgendwie alles übersetzt aber schöner wäre es in Deutsch.
Top Qualität und Verarbeitung. Ich bin jetzt schon länger ein Fan vom IFJ-Webshop, bisher wurde ich noch nicht enttäuscht.
taktisches Basiswissen in unterschiedlichen Spielsituationen wird sehr gut dargestellt und im Detail erläutert
taktische Grundsituationen werden an Hand von Spielsituationen anschaulich und präzise erklärt. Es könnten etwas mehr praktische Trainingsvorschläge zu Übungs- u. Spielformen enthalten sein.
Gutes Video mit Videoszenen, Trainingsübungen und vielen Beispielen.
Das Video ist ganz interessant, besonders die Videos mit den Spielausschnitten sind hilfreich. Das Englisch des Autors ist manchmal etwas schwer zu verstehen, im Grunde weiß man immer, was gemeint ist.