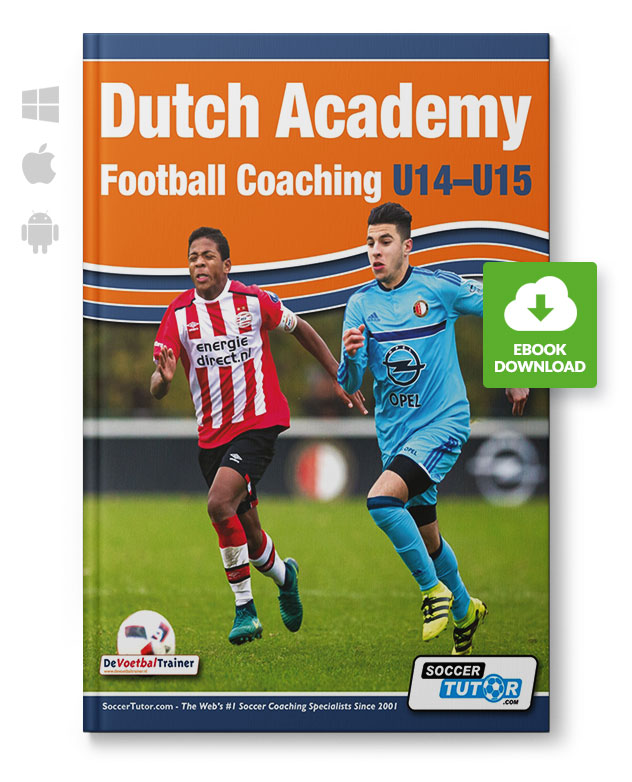 Dutch Academy Football Coaching U14-15 - (eBook)
Auch als anderes Medium verfügbar
Product information
168 Pages
FULL COLOUR Print
35 Tactical patterns of play
62 Practices
U14-U15 Level
Dutch Academy Football Coaching U14-15
Functional Training and Tactical Practices from Top Dutch Coaches
This ebook contains 35 Tactical patterns of play and 62 practices from the top academies in the Netherlands. There are technical (functional) and tactical practices for a wide range of topics ideal for coaches at youth level wanting to develop their team to world leading, Dutch academy standards.
The Dutch Academy Football Coaching (U14-15) ebook in FULL COLOUR contains a detailed outline of:
The Dutch training methodology for this age group
The basic principles of Dutch Academy coaching
The age-specific characteristics
Training / coaching methods
Matches: Positional Roles and Responsibilities
The Dutch Academy style of play
Functional technical training
Tactical training
Building up play
Attacking
Defending
Positional practices and small sided games
This gives you a completely unique opportunity to learn the types of practices used by some of the best Dutch Academy coaches.
Practice Topic Samples:
Passing Direct from the Centre Back to the Striker when Building Up in a 5 v 4 Practice
Building Up Play from the Goalkeeper through to Midfield in a 6 (+GK) v 4 Game
Coordinated Movements and Finishing from Crosses in a 2 Zone Game
Pressing from the Front with the Forwards in a Dynamic Game
Providing Cover and Taking Over Marking while Pressing in the Midfield Area (3 Zone Practice)
Exploiting Space in Behind the Opposition's Defence in an 8 v 8 Small Sided Game
Building Up Play with the Full Back: 6 (+GK) v 4 Positional Play
Receive, Dribble & Beat a Defender on the Flank in a Passing Combination Practice
Altersklasse:

U11 - U14

, U15 - U19

, U20 - Pro

Sprache:

English