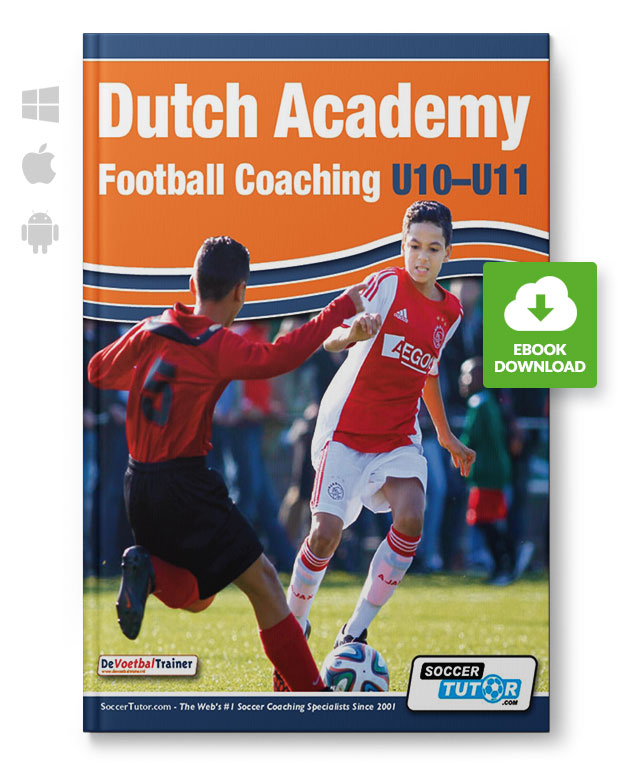 Dutch Academy Football Coaching U10-11 - Technical and Tactical Practices from Top Dutch Coaches (eB
Auch als anderes Medium verfügbar
Product information
120 Pages
FULL COLOUR Print
66 Practices
U9-U12 Level
Dutch Academy Football Coaching U10-U11
Technical and Tactical Practices from Top Dutch Coaches
This ebook contains 66 practices as used in top academies in the Netherlands. There are technical and tactical practices for a wide range of topics ideal for coaches at youth level wanting to develop their team to world leading, Dutch academy standards.
The Dutch Academy Football Coaching (U10-11) book in FULL COLOUR contains a detailed outline of:
The Dutch training methodology for this age group
The basic principles of Dutch Academy coaching
The age-specific characteristics
Training / coaching methods
Match days
Training Sessions
Technical practices (moves and turns)
Positional games
Formation specific small sided games
This gives you a completely unique opportunity to learn the types of practices used by some of the best Dutch Academy coaches.
Practice Topic Samples:
Passing and Receiving in a 4 v 4 Small Sided Game with End Zones
The Scissor (and Moves to Beat) in a 4 v 4 Small Sided Game
The Elastic Drag Move in a Continuous Dribbling Circuit
The Train Move, Crossing and Finishing in a 7 v 7 Small Sided Game with Side Zones
Positional 5 v 3 Possession Game
Building Up Play from the Goalkeeper in a Dynamic Practice
Formation Specific 5 v 4 Small Sided Game (1-2-1 vs 2-1)
Formation Specific 6 v 6 Small Sided Game (4-1 vs 2-3)
Altersklasse:

U11 - U14

, U15 - U19

, U20 - Pro

Sprache:

English