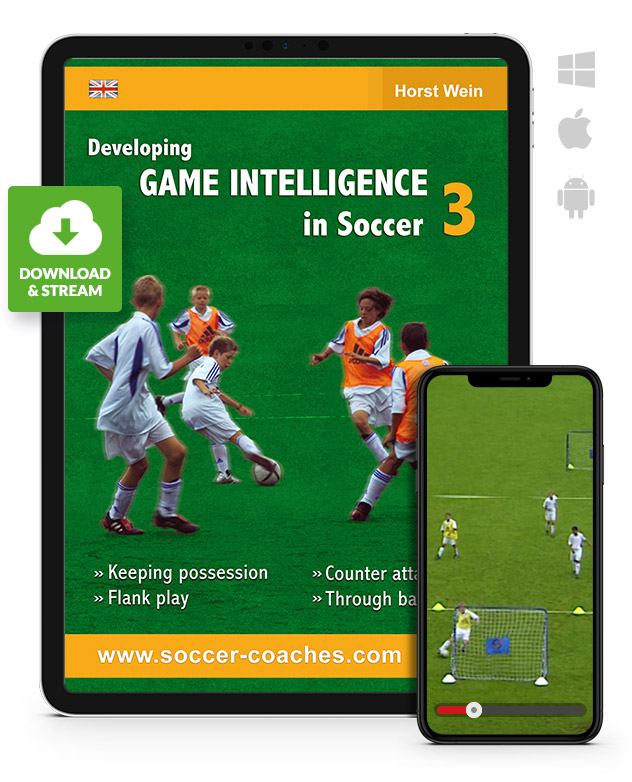 Developing Game Intelligence - Part 3 (Download)
Auch als anderes Medium verfügbar
Product information
Author and Presenter: Horst Wein
Spielzeit: 62 min.
Part 3: Preparatory Games for 7 v 7
All these simplified games for teams of three presented in this DVD are based on realistic game situations.
3 v 1 - Ball possession in two adjacent playing areas
Quick attack 3 v 1 plus 2
3 v 1 with a safety defender
3 v 3 with four goals on each side of a square area
3 v 2 with counter attack
3 v 2 plus 1 with three teams
Keeping possession in a 3 v 2 situation
Variation of ball possession in the 3 v 2
Through-balls - 3 v 1 plus 1
3 v 3 on two big goals
3 v 3 -Passes through one of the four goals
3 v 3 -Crosses for headballs.
Stimulate through playing instead of instructing with exercises. (Horst Wein)
In part 3 of this series Horst Wein offers to coaches and teachers a series of simplified games 3 against 3 to acquiring the competence for the 7 v 7. The players space is getting bigger and bigger, the challenges become more complex. This way, the players learn to orient themselves in an enlarged area and to make correct decisions quickly.
Altersklasse:

U11 - U14

, U15 - U19

, U20 - Pro

Sprache:

English