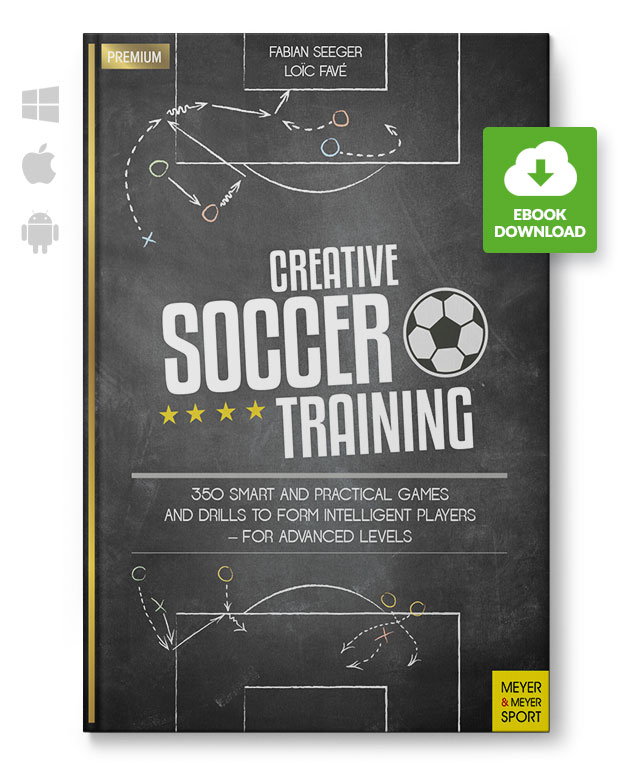 Creative Soccer Training (eBook)
Product information
Author: Loïc Favé, Fabian Seeger
Pages: 392
Graphics: 353
Photos: 153
Creative Soccer Training
350 Smart and Practical Games and Drills to Form Intelligent Players - For Advanced Levels
Meyer & Meyer Premium - At Meyer Meyer we make no compromises to present the best in sports content. Go for Gold! Creative Soccer Training is the sequel to the top-selling book, The Soccer Games and Drills Compendium. The authors have extended their realistic training approach to present 350 new and innovative training exercises. With its tried and tested format, Creative Soccer Training continues and enhances the practice-oriented methods outlined in the Games and Drills Compendium, but in this book the methods are developed for more ambitious and advanced players. The creative training areas are divided into:
Training exercises - passing and ball control, shot on goal and exploitation, tackling and transitioning, chasing and capturing, cognition and perception, preorientation and over-the-shoulder glance
Games - opening techniques and game start variations, rondos and possession, ball circulation and flow, color and adversary games, target areas and target zones, seams and vertical play, action speed and playing ability, game ideas and rule variations, playing fields and zone rules
Competitive games - 1-on-1, 2-on-2, and team against team
Athletic training - activation, self-massage, corrective exercises, sling training
Creative coaching tips - support for training and competition management
Augmented with invaluable games and drills, this new collection of training exercises provides a continued and differentiated foundation for creative, versatile, and modern soccer training with advanced players.
Altersklasse:

U11 - U14

, U15 - U19

, U20 - Pro

Sprache:

English