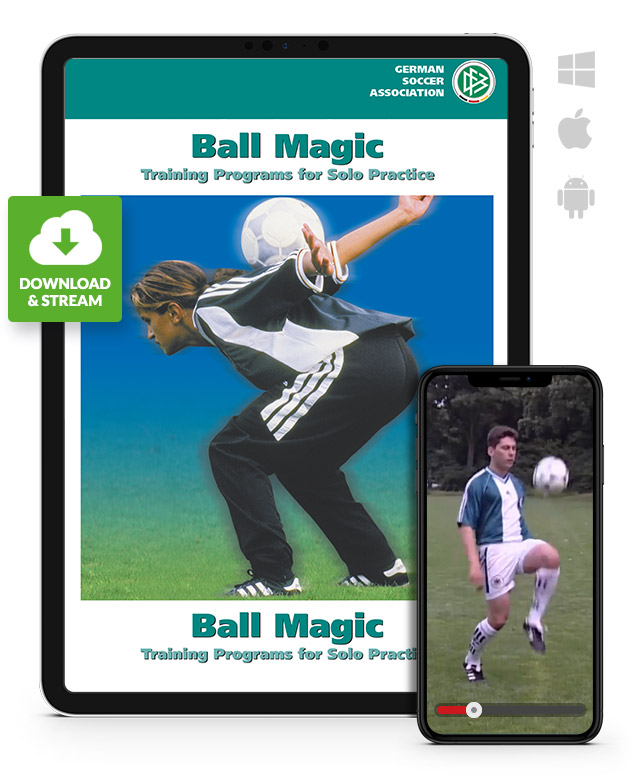 Ball Magic (Download)
Auch als anderes Medium verfügbar
Product information
Length: 57 minutes
Training Programs for Solo Practice
Scoring on a volley or bicycle kick, successfully dribbling past multiple opponents, creative tricks and fakes - thease are the things that make soccer so fascinating and get the fans excited. It all comes down to having a good feel for the ball. The "Ball Magic" eVideo from the DFB (German Soccer Association) is designed to motivate young player to practice on their own, so they can start developing a broad repertoire of techniques.
In this eVideo, you´ll find more than 100 exercises that can help you become a "ball magician" too!
Index:
Dribblings and stunts
Dribbling
Fast footwork
Coordination exercises
Fast changes of direction
"Magic tricks"
Juggling, Ball Controll, Passing and Shooting, Partner Exercises
Juggling
Ball control
Passing and shooting
Partner exercises
Altersklasse:

U11 - U14

, U15 - U19

, U20 - Pro

Sprache:

English