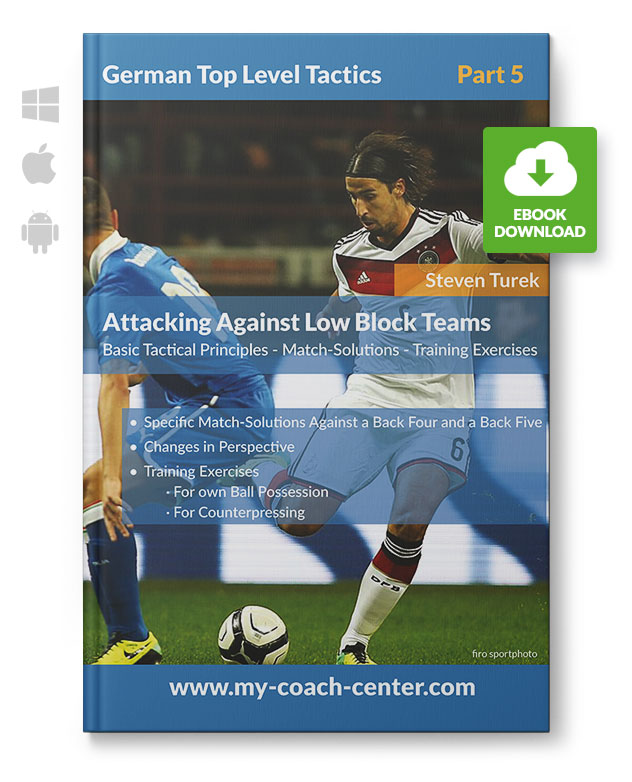 Attacking Against Low Block Teams (eBook)
Basic Tactical Principles – Match Solutions - Training Exercises​
€13.95*
%
€14.95*
(6.69% saved)
Product information
Author: Steven Turek
Pages: 96
Graphics: 87
 
Attacking Against Low Block Teams
Basic Tactical Principles – Match Solutions - Training Exercises​
The fifth part of the series "German Top Level Tactics" discusses how to attack against low block teams. Many teams resort to this tactical element for the purpose of exasperating strong offensive teams. To have apposite answers to that defensive construct, you will find on more than 90 pages' numerous basic principles, which confer the attacking play an optimal structure. Thereby, the following principles are made us of:
The principle of short pass distances
Effectively outplay entire lines
The manning of strategically important spaces
The behavior in and around the penalty box
And many more!
Farther, numerous changes in perspective, remarks und quotes take care of an easy and simultaneously detailed understanding. Concrete match-solutions and strategies provide amongst others answers to the following questions:
Where are the crucial differences in the play against a back four respectively back five?
What determines the position of the wing backs and the wing players?
In which way contributes counterpressing to a successful finish?
The last part provides several competition-like exercises and games - adjusted to the play against a back four or a back five and strategies to improve counterpressing.
Altersklasse:

U11 - U14

, U15 - U19

, U20 - Pro

Sprache:

English