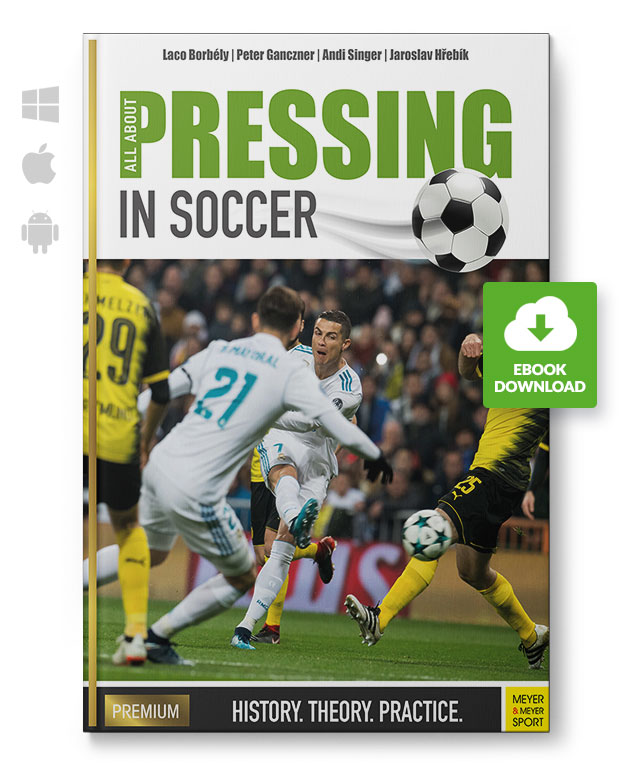 All about Pressing in Soccer (eBook)
History. Theory. Practice
Product information
Authors: Laco Borbély, Peter Ganczner, Jaroslav Hřebík, Andi Singer
Pages: 400
Graphics and Photos: 450
All about Pressing in Soccer
History. Theory. Practice
All About Pressing in Soccer provides a detailed look at the history, theory, and practice of pressing in soccer. With this comprehensive resource, the coach and player will improve their understanding of the game, making them stronger and more successful as a coach or player.

Beginning with a look at the history of pressing, the reader will gain background knowledge crucial for understanding the theory behind pressing, which is presented in the following section. Once the reader understands the why and the how of pressing, he will be able to use the practical techniques presented in the third section.

With this book, the reader, whether a coach or a player, will have all the tools necessary to implement a strong pressing tactic in the game, giving them that necessary edge over their opponents. .
Altersklasse:

U11 - U14

, U15 - U19

, U20 - Pro

Sprache:

English