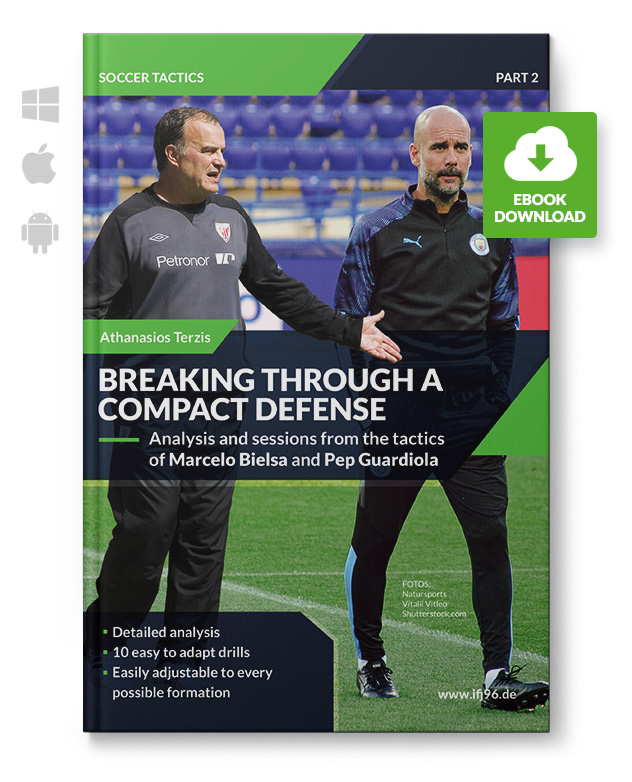 Breaking through a compact defense (eBook)
Analysis and sessions from the tactics of Marcelo Bielsa and Pep Guardiola
€13.95*
%
€14.95*
(6.69% saved)
Product information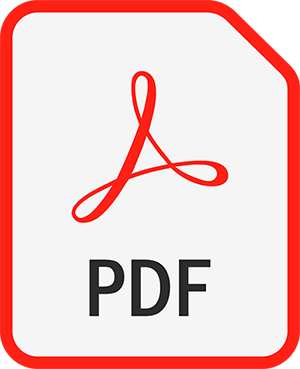 PDF Preview of "Breaking through a compact defense"
Author: Athanasios Terzis
Publisher: Institute for Youth-Soccer, (IFJ96)
Pages: 79
Graphics: 60
Drills: 10
When attacking against a compact team, the spaces mainly in central areas are restricted. In occasions like these it is almost impossible to break the lines of the opponents by playing through. However, there are other ways to break through the defence by using alternative tactics. If appropriate steps are followed, such as moving the ball to a free player, playing an accurate pass, receiving behind the defence and these steps are combined with the application of specific principles by the forward (receiver), such as having the appropriate positioning and using well-timed runs, the ball can be played over the lines towards specific areas that the opponent defenders can't defend.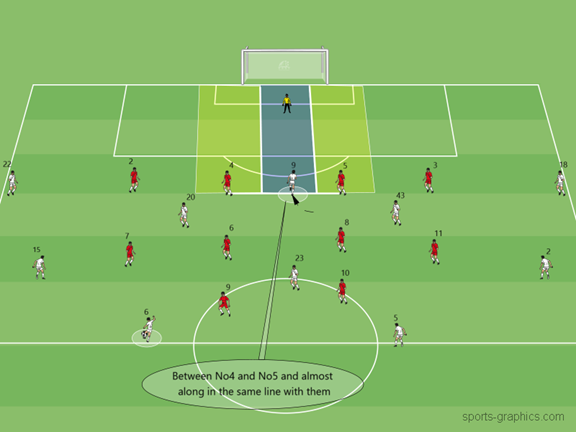 Diagram: Positioning of the forward between defenders the moment the pass is played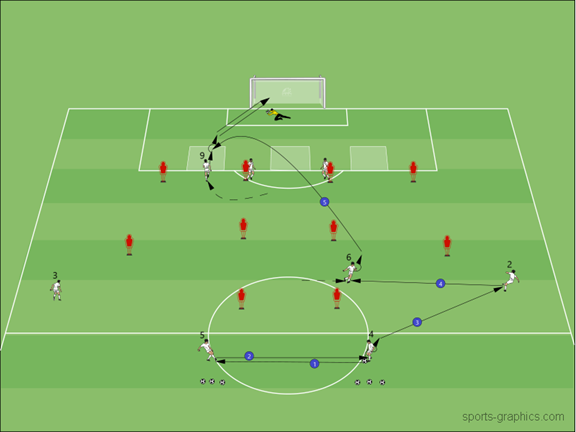 Drill: Forward uses appropriate positioning and a well-timed run to attack effectively the space behind on the weak side
Another option to break through a compact defence is by attacking through the flanks. To be effective when attacking these areas, once again specific steps should be made. Firstly, the ball must be moved to a player who has the appropriate passing angle to direct the ball either to the winger's feet or towards the space behind the fullback. Then the player in possession has to read the positioning of the opponent defenders and make the right decision about where to direct the ball and what kind of pass should he play. Finally, the winger has to find out where is the right space to receive, behind the defence or on his feet. If it is behind the defence, he has to make the appropriate run which should have specific characteristics.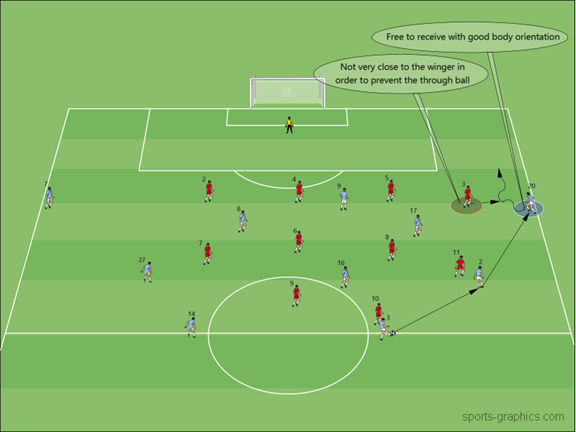 Diagram: Winger has available space to receive on his feet and go for the 1 v 1
Drill: Winger receives on his feet and goes either for the 1 v 1 or for an early cross
This book which is based on the tactics of Marcelo Bielsa and Pep Guardiola also includes drills to help coaches apply the analysed tactics to their teams, by simply adding or adjusting them to their own training sessions.
Altersklasse:

U11 - U14

, U15 - U19

, U20 - Pro

Autor:

Athanasios Terzis

Sprache:

English
---
Sehr informatives Buch. Direkt im Training umsetzbar.