Pep Guardiola Tactics - Attacking midfielders in overload creation and exploitation - 1-4-3-3 (Download)
An analysis of Pep Guardiola tactics with Manchester City
Product information
Author and Presenter: Athanasios Terzis
Language: English
Length: 51 min.
The role of attacking midfielders in overload creation and exploitation with the 1-4-3-3 – An analysis of Pep Guardiola tactics with Manchester City
The role of the attacking midfielders in the 1-4-3-3 formation is very important. These two are usually key players in the 1-4-3-3 so they have to be top quality. Apart from their technical excellence, the attacking midfielders have to have high tactical awareness, as this will enable them to create situations in order to break through the opposition's defensive organization. One of the situations which helps an attacking team to break through the opposition's defence is the creation of overloads (numerical superiority). Creating overloads is of high priority for teams that aim to apply the principles of positional play.
In this presentation, which includes detailed diagrams and videos, we will analyse the attacking tactics of Pep Guardiola with Manchester City and we will focus on how, through intelligent positioning, the attacking midfielders create overloads in specific areas of the field.
Additionally, we will present how these overloads can be exploited by good decision making and appropriate combination play. In every tactical situation analysed, the opponents play a significant role, so they can't be left outside of the context. That's why in this project the reaction of the opposition is always taken into account so that players end up with the appropriate decision making.
Finally, the animated drills are designed to train players in taking the right decisions by reading the reaction of the opponent as well as to help coaches apply these tactics to their teams, by simply adding or adjusting them to their own training sessions.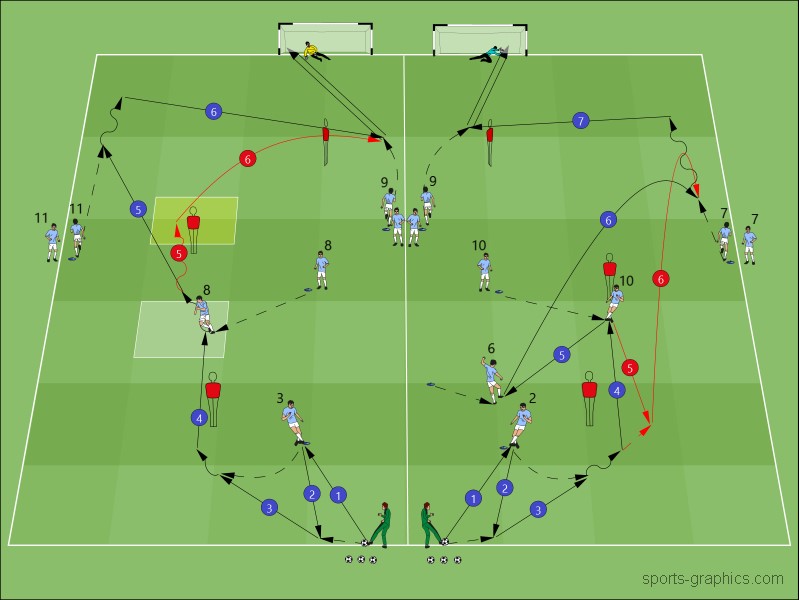 The overload creation and exploitation analysed can also be used in every possible formation by making the appropriate adjustments.

Altersklasse:

U11 - U14

, U15 - U19

, U20 - Pro

Autor:

Athanasios Terzis

Sprache:

English